Shades of Linda
22 January 2021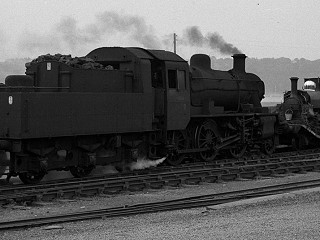 Linda leaving Port Penrhyn 1962
Our first picture is two glimpses into the cab from the tender – spot the similarities and spot the differences – in 1968 the loco is in the hands of regular driver and General Manager Allan Garraway.
Our second jumps back six years to Linda leaving Port Penrhyn behind an Ivatt class 2 for a new life on Ffestiniog Railway in 1962 – Photo Mike Davis
This was a particularly challenging exercise as related by Mike in this previous article.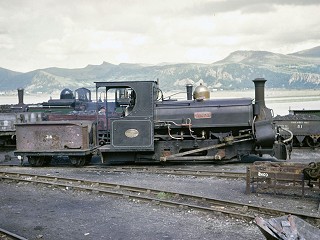 Linda as delivered with old tender from Welsh Pony in July 1963 – Photo Norman Pearce
Linda painted black in passenger service – September 1964
Linda still 0-4-0 but now in green July 1965 – Photo Tony Ward
Regular Linda driver Allan Garraway in typical pose – Photo Colin Whitfield
Linda now 2-4-0 with silver heat resistant smokebox paint and now oil fired in June 1972– Photo Neil/Eileen Clayton
Linda ready for one of the many party trains in August 1971 - Photo Derek Evans
Linda in the cold in the Long Shed January 1982 – Photo Ralph Taylor
Starring in 1st passenger train to Blaenau Ffestiniog (though a special) 23rd May 1982 Driver Allan Garraway - Photo N Bond
Linda with Lempor Chimney. June 1985 – Photo Jim Frazer
Linda painted Midnight Blue March 1992. Note addition of rear cab similar to Blanche – Photo Jim Frazer
Linda about to leave Porthmadog with a freight train and without tender 2002 – Photo Michael Whitehouse
After being out of traffic for a number of years,Linda returned painted Black March 2011 – Photo N Bond
Linda and Blanche back together in matching liveries at Blaenau Ffestiniog July 2011
Linda's own celebration train – 50 years on the Ffestiniog Railway – Photo N Bond
The appeal is open and every penny counts to ensure Linda returns to front line service as soon as possible.