Linda Appeal
08 December 2020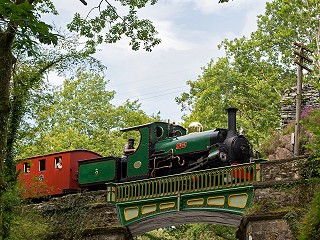 On the Approach to Tan y Bwlch on COVID19 services
£60K for 60 years
In July 1962 Hunslet Linda arrived from the Penrhyn Quarry Railway to fill a gap in the Ffestiniog Railway's locomotive fleet. At the time, she was a rather youthful sixty nine years old and was initially rented for £50 per week before being purchased a year later.
In her time on the Ffestiniog Railway, Linda has seen many changes but the Hunslet pedigree and quality of build shines through. She returned to service in April 2011 after a prolonged overhaul that saw certain features restored, such as the original safety valves. After a couple of years as an oil burner, Linda returned to coal firing and has been a regular performer, and certainly catching attention when running with sister Blanche in matching FR green liveries. Now, ten years later, as she approaches sixty years on the Ffestiniog Railway, a further major overhaul is about to take place.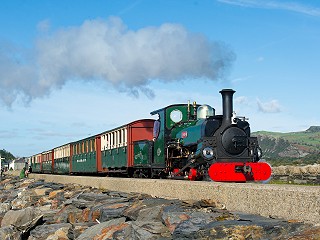 Linda, unusually pointing downhill, leaves Porthmadog with Blanche
Whilst recent years have seen the railway moving to running larger trains with heavier carriages and the larger locos, the problems of 2020 have shown that the smaller engines are not just 'nice to haves' and have been at the centre of the service run in the trials and tribulations of the Covid pandemic.
With the overhaul impending, the FR will need to find the cost of this at a time when resources are stretched thin. It is certain that it will cost more than the £800 that the Penrhyn Quarry Railway paid Hunslets when new or the £1,000 that the Ffestiniog paid in 1963. We are looking at a figure of around £60,000. We all want Linda returned to traffic as quickly as possible.
Could you help by making a donation towards Linda's overhaul? Donations large and small will be more than welcome.
Can you recall a specific memorable moment spent with Linda or on the Ffestiniog Railway? You could sponsor that month of Linda's Ffestiniog life. £60,000 for sixty years comes out at £83.33.
Our fundraising director will be sponsoring May 1982 as he guarded the first timetabled train into Blaenau Ffestiniog on the last day of this month.
Any month from July 1962 to June 2022 can be yours for a minimum donation of £83.
How to Donate
In addition, if you would like to make a direct bank transfer, please contact our fundraising director for details (fundraising@ffestiniograilway.org.uk).
Gift Aid
If you are a UK taxpayer we may be able to claim Gift Aid on your contribution if you have a valid Gift Aid declaration in place.