Farewell to Earl of Merioneth
26 March 2018
The Earl of Merioneth entered traffic in July 1979, constructed around the second Hunslet-built double engine boiler, and a replacement for a loco of the same name which had been preserved as the last traditional outline double fairlie on the Ffestiniog Railway.
The lines were softened in 1989 with some curves introduced and lining applied. This was topped off with brass capped chimneys and brass domes taken from Merddin Emrys during its rebuild of 1985-87.
Earl of Merioneth as built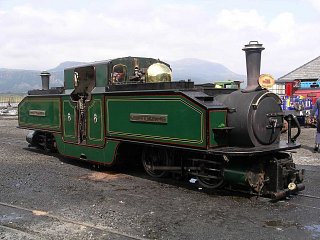 In 2004 looking fairly worn again
Whilst constructed as an oil burning loco, the oil tanks were removable and the loco lent itself to be the first double loco to be converted to coal burning in 2006. It ran for a season before being overhauled and re-entered traffic in 2007 in temporary black livery.
Now with coal instead of oil bunkers. The original dome covers have made a reappearance whilst the chimney caps are painted over
Running in black livery following overhaul
Being prepared for repaint into lined green again
And after repaint, leaving on its first service on Good Friday 2008
In regular service in October 2009
For special occasions, it is not unusual for the Earl to revert to quasi original appearance, as here in 2012
The last trains will be on Sunday 8th April 2018, see the Ffestiniog Railway website for details.