Minffordd Hostel
« Return to Accomodation list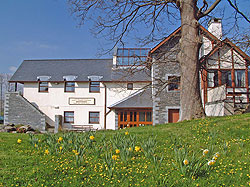 Most volunteers stay in the purpose built Minffordd Hostel – it is situated close to both the FR and National Railway (Arriva Wales) stations.
Minffordd Hostel is split into 5 modules and in total it will sleep some 38 volunteers. Rates vary on whether you are an FR Society member/non member and/or on a working visit. The facilities are excellent by anyone's stretch of the imagination.
Each module has its own fully equipped kitchen and storage facilities. There is also a combined lounge and eating area. There are two shower/washrooms per module and the two-person rooms have a sink provided.
Each module will sleep 8 people in three rooms, with the exception of module 6 which sleeps 6 people in 2x twin rooms and 1× 2 bunk room (we charge a slightly higher rate for this module). There are three rooms for sleeping. 2 × 2 bunkbeds and 1 × 4 bunkbeds. Module 6 has been upgraded to 2x twin rooms and 1x bunk room. With a small lounge area and breakfast bar. Bedding to this module is provided by the warden.
On the top floor of the Hostel is a meeting room/library quiet room and below is a communal lounge which has free satellite television, DVD player and Video Player. Plus a tea and coffee bar.
Wireless internet access is available throughout the hostel for free. Please see the Warden on-site for details.
Laundry facilities are provided on the ground floor, with a small charge. The Warden oversees the communal areas of the hostel but living areas are the responsibility of the residents.
Download Minffordd Hostel brochure: Ffestiniog Railway Society Hostel 2019
Minffordd Hostel postcode: LL48 6HF
Minffordd Hostel grid reference: SH596384
Non-working visit: £15 per night
Non-member: £8 per night
FR Society member: £4 per night, reduced to £3 per night after 20 nights
To join the FR Society and benefit from reduced hostel rates, click here.
Module 6: £8 per night for members, £10 non-members
Tent (non serviced) £2.50
Tent or caravan (serviced) £6 (for 2 persons per night. £2.50 for every extra person above 2)
Charges include VAT at the standard rate.
As of 1st October 2022, the Ffestiniog Railway Society is introducing a new initiative to support volunteering.
The Ffestiniog Railway Society (FRS) recognises the increase in the cost of living and therefore the cost of volunteering. In order to further support the FFWHR Co in attracting and maintaining the strong volunteer workforce require to operate the modern railway. The FRS is implementing the following subsidy package for the railways volunteer hostels.
Volunteers under 25 will be subsidised and stay for free.
After 20 nights volunteers will not be charged for further stay.
Hostel Fees will not be raised this year to cover the rising overheads at the hostel.
This subsidy package will run from 1st October 2022 to 30th September 2023 to coincide with the hostel accounting year.
Volunteers staying in module six will not be eligible for this subsidy.
Volunteers are reminded that over a 12 month period we cannot allow anyone to stay in the hostel for more than 10 months.
Hostel 4 rooms will now have a maximum capacity of 4. To have sole occupancy the occupier will have to book 4 beds out. Booking 4 beds will not count as 4 stays towards an occupiers stay total. Same goes for 2 rooms.
Volunteers staying for free forfeit the ability to have single occupancy of rooms.
The guidelines for what consist of a "volunteering stay" is approximately 60% of time spent at the railway. This allows for days off and days travelling to and from the railway either side of someone's volunteering activities. This will be monitored by the hostel warden to ensure that volunteers are keeping to the spirit in which this is intended.
Hostel Bookings
All hostel bookings should be made via email to the Hostel Warden.
Alternatively, please contact the Hostel Warden by phone:
Ben Rosen, Hostel Warden
Tel: 01766 771280
Mobile: 07860 417569
Email: hostel@ffwhr.com
Payment should be made to the Hostel Warden during your stay.