Minffordd Hostel
« Return to Accomodation list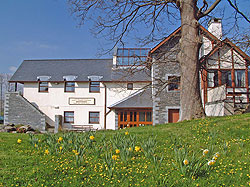 Most volunteers stay in the purpose built Minffordd Hostel – it is situated close to both the FR and National Railway (Arriva Wales) stations.
Minffordd Hostel is split into 5 modules and in total it will sleep some 38 volunteers. Rates vary on whether you are an FR Society member/non member and/or on a working visit. The facilities are excellent by anyone's stretch of the imagination.
Each module has its own fully equipped kitchen and storage facilities. There is also a combined lounge and eating area. There are two shower/washrooms per module and the two-person rooms have a sink provided.
Each module will sleep 8 people in three rooms, with the exception of module 6 which sleeps 6 people in 2x twin rooms and 1× 2 bunk room (we charge a slightly higher rate for this module). There are three rooms for sleeping. 2 × 2 bunkbeds and 1 × 4 bunkbeds. Module 6 has been upgraded to 2x twin rooms and 1x bunk room. With a small lounge area and breakfast bar. Bedding to this module is provided by the warden.
On the top floor of the Hostel is a meeting room/library quiet room and below is a communal lounge which has free satellite television, DVD player and Video Player. Plus a tea and coffee bar.
Wireless internet access is available throughout the hostel for free. Please see the Warden on-site for details.
Laundry facilities are provided on the ground floor, with a small charge. The Warden oversees the communal areas of the hostel but living areas are the responsibility of the residents.
Download Minffordd Hostel brochure: Ffestiniog Railway Society Hostel 2019
Minffordd Hostel postcode: LL48 6HF
Minffordd Hostel grid reference: SH596384
Non-working visit: £15 per night
Non-member: £8 per night
FR Society member: £4 per night, reduced to £3 per night after 20 nights
To join the FR Society and benefit from reduced hostel rates, click here.
Module 6: £8 per night for members, £10 non-members
Tent (non serviced) £2.50
Tent or caravan (serviced) £6 (for 2 persons per night. £2.50 for every extra person above 2)
Charges include VAT at the standard rate.
Hostel Bookings
All hostel bookings should be made via email to the Hostel Warden.
Alternatively, please contact the Hostel Warden by phone:
Ben Rosen, Hostel Warden
Tel: 01766 771280
Mobile: 07860 417569
Email: hostel@ffwhr.com
Payment should be made to the Hostel Warden during your stay.