The Ffestiniog Railway Vintage Weekend takes place Friday 5th October to Sunday 7th October.
Daily Timetable Highlights, Ticketing arrangements and Booking Form have been added to the Ffestiniog Railway website for you to download here.
This is always a highlight of the year. See the Double Fairlies, England Engines and the unique 'Boat' as part of the action.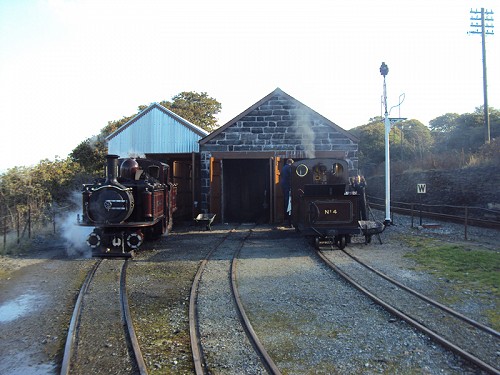 FRIDAY: Early morning photo-shoot by the Old Loco Shed
• Double-headed Hunslet 'Ladies' working the FR 'Pink' timetable service
• England 0-4-0STT and Col Stephens set on early-morning photo special from Porthmadog to Boston Lodge Halt / Minffordd
• England 0-4-0STT and Col Stephens set on early-morning train from Porthmadog to Blaenau Ffestiniog and return
• Mid-morning Goods train with England 0-4-0STT from Porthmadog to Dduallt and return
• Late-morning Victorian train, worked by a Double-Fairlie 0-4-4-0T, from Porthmadog to Blaenau Ffestiniog and return
• Afternoon Col. Stephens-era train, from Tan-y-Bwlch to Porthmadog, worked by a Double-Fairlie 0-4-4-0T
SATURDAY: Evening 'Nightglow' photo-shoot at Minffordd
• Early-morning Victorian train, worked by an England 0-4-0STT, from Porthmadog to Blaenau Ffestiniog and back … England loco replaced by a Double-Fairlie 0-4-4-0T from Dduallt on return
• Early-morning train of slate waggons, from Porthmadog to Dduallt, worked by a Double-Fairlie 0-4-4-0T
• Early-morning freight train, worked by an England 0-4-0STT, from Porthmadog to Tan-y-Bwlch and return
• Single-Fairlie on morning vintage train, from Port to Blaenau Ffestiniog (running as a mixed train to Dduallt) and return
• Double-headed Hunslet 'Ladies' working the FR 'Pink' timetable service
SUNDAY: Locomotive line-ups at Harbour Station 08:45-09:30
• Double-Fairlie and Victorian train – Early-morning Port to Blaenau Ff. and return (with the Boat to TYB) – Late-morning Port to Blaenau Ff. and return (mixed train to TYB) – Late-afternoon Port to Minffordd return
• Two freight trains to Dduallt and return behind different England 0-4-0STTs – early-morning from Minffordd, late-morning from Porthmadog
• Morning vintage train from Porthmadog to Tan-y-Bwlch and return with Single-Fairlie 0-4-4T
• Double-headed Hunslet 'Ladies' working the FR 'Pink' timetable service
• Mid-morning Col. Stephens-era train from Porthmadog to Blaenau Ffestiniog and return, worked by a Double-Fairlie 0-4-4-0T
• Two afternoon vintage trains from Porthmadog to Tan-y-Bwlch and return worked by an England 0-4-0STT