Over the weekend of 14/15 January, the Trackside Drains team had their first working party of the year. Ron Walker reports on the activities.
There was a ballast train to the site, a first for nearly two years. This had Moelwyn (currently WD 7011) taking the train up to Pen y Bryn, just north of Garnedd Tunnel, at 8 miles and 15 chains.
First job was to ballast cover a pipe put in last year, then up a little to remove a length of old ex GPO (Post Office) pipe, replace it, wrap it in terram and then cover it up again.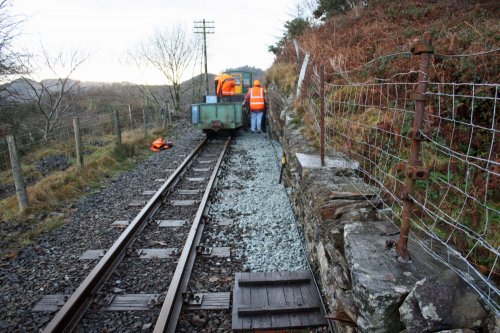 Another job was a mile further up the line, at Bunny's foot crossing, where there is a length of very wet rock, moss and grass. Because of this, the ballast underneath gets polluted with fine silt, so this was all removed.