Tan y Bwlch Road Bridge Painting
25 June 2016
Work underway as David Lloyd George passes by
Tan y Bwlch road bridge, on the approach to the station, has been restored to its glory with the first full repaint since 1986.
Funded by the Ffestiniog Railway Society following the receipt of a legacy dedicated to preservation of the line's permanent way and infrastructure, the project was carried out in May.
The bridge decking had been checked out earlier in the year. With the road below closed for two weeks, scaffolding was erected to allow the underside of the bridge to be painted while the upper level allowed the detailed ironwork to be accessed.
Seen in the Summer of 2015, the bridge looks tired
The other side of the bridge
To begin with, the ironwork was pressure washed and the mortar around the stonework repaired.
Cleaning down the ironwork in early May
The scaffolding platform can be seen on the left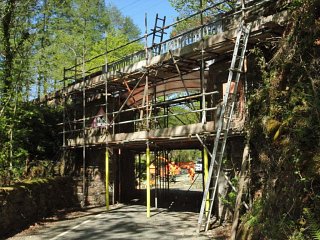 The scaffolding is quite comprehensive
The sides of the bridge in primer
Whilst the road beneath the bridge was closed, the railway ran as normal.
The work on the bridge afforded some good views of the passing trains
After the base green was applied on the primer, the detail was picked out in yellow and red.
Further progress on the paintwork as the Earl of Merioneth passes
And the Observation carriage
And the completed product
The work was finished well within the time limit allowed for the road closure so it was reopened early.
The work carried out should protect this historic part of the railway for many years to come.